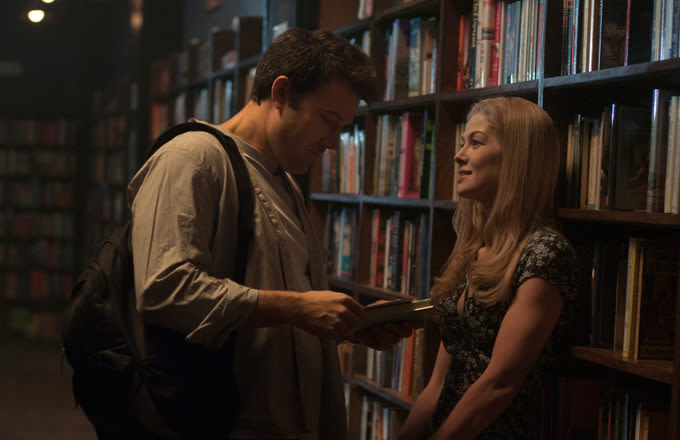 David Fincher es uno de los directores americanos más respetados y admirados del orbe y EE.UU, con una filmografía envidiable, y una disposición a ganar el Oscar a mejor director que muchos creen injusto no haberlo merecido aún, teniendo películas del calibre de Seven (1995), El club de la lucha (1999) y Zodiac (2007), como a su vez propuestas entretenidas en La habitación del pánico (2002) y la adaptación de The Girl with the Dragon Tattoo (2011); o mencionando otra muy respetada La Red Social (2010) que dividió las aguas y muchos la postulaban mejor que la ganadora de su año, El discurso del rey (2010). En mi personal gusto destaco The Game (1997), una pequeña maravilla. Pero también tiene desaciertos como un poco lo es El curioso caso de Benjamin Button (2008), y en cierta medida Perdida (2014) pasa por lo mismo. Un discreto bajón en su obra. Si bien el estilo en la primera parte de la película es de los que han llevado a la fama a este gran director. Con un arranque de suspenso de qué le pudo haber pasado a una mujer excepcional llamada Amy Dunne (Rosamund Pike, muy entregada a su papel), escritora, querida persona y miembro relevante de su comunidad, pero que vive en una vida aunque acomodada un poco deslucida por el marido promedio con el que se casó, interpretado por Ben Affleck. De quien se desconfía pudo haberla matado.
En la primera parte de la película, ésta dura 2 largas horas y media, que hay que reconocer entretienen y se van rápido, se ve toda la intriga del misterio de esta desaparición, donde se dan pistas de lo que pudo suceder, como pensar en un marido deseoso de deshacerse de ella, que no quería tener hijos y que estaba a punto de divorciarse, que además tenía una amante joven y algunas jugadas económicas típicas causantes como el seguro de vida tras su cónyuge. Todo el ambiente que crea Fincher parecía dar a comprender que estábamos ante la película definitiva sobre asesinatos perfectos, con una emoción, aparato mediático y tensión prodigiosa, mientras se iban dando pautas que iban rellenando un background de secretos ocultos, dados desde la mujer perdida, que es el punto de predominancia del filme, a través de su diario y rastros en la supuesta escena del crimen que van revelando el comportamiento amenazador de su esposo, que como es habitual en Affleck pasa como tipo parco, seguro, tranquilo y poco expresivo, un sujeto de lo más ordinario que hay que decir intimida poco, pero que iba creando la noción de poco probable culpable, que justamente todo eso favorecía a encubrirlo de la mejor manera y generar la ansiada curiosidad. En si estábamos ante el asesino idóneo y avanzado el metraje había que darle el toque final, el gran hallazgo o cierta novedad creativa en dicha línea. Y quizá ese fue el talón de Aquiles del filme, encaminar la historia hacia un clímax/desenlace acorde con la extraordinaria labor precedente. Pudo ser una cinta más corta pero más redonda, y sin embargo Fincher que adapta la novela de Gillian Flynn no puede más que respetarla y es ahí donde se va por una parte al agua.
La segunda parte es un giro increíble, en el mal sentido, por un lado, tomando una nueva dirección en manos de la perversidad, en donde el desengaño del matrimonio en muchos casos –no seamos tampoco exagerados en cebarnos con el goce de la crítica de ésta unión en lo práctico; que aguante el optimismo y la lucha en el compromiso celebratorio del amor- es menos romántico y más duro de sobrellevar de lo que uno cree. Lugar donde Fincher hace gala de un buen discurso, que salva de la quema la propuesta ya que realza el conjunto como si estuviéramos frente a una tesis, aunque no converja el placer de la narrativa en sí de su segunda mitad, a poco de "desperdiciar" su cualidad de thriller, atacando las falsas apariencias y las convenciones que tapan la desilusión.
En adelante el filme se aboca a culpar a Nick Dunne (Ben Affleck) dejándolo en una maraña, bajo una manera fantasiosa, diría yo, viéndose como si de matemática se hablara, aunque se trate como anuncia un álter ego de la maniobra de un ser privilegiado, que bien escenifica el famoso abogado Tanner Bolt riéndose sin contención del asunto, y que parece tener a Fincher en la noción de la extravagancia del material entre manos (al filme no le falta la ironía debajo de su capa dramática y macabra). Lo que viene después es hacer de la oscuridad del retrato algo cada vez mayor, más despiadado, ruin y enfermo. Y es ahí donde el filme simplemente queda en mí parecer desfavorecido, perdiendo toda su seriedad primigenia, más no su profundización, acotamos. Jugando a ser más una lucha por demostrar que el marido debe pagar sus culpas (hasta el girar de la rueda en una entrevista que muestra tal cual la ilusión prefiere al ideal, en que es como no aceptar que la vida es menos gloriosa e insulsa que lo que anhelan nuestras expectativas emocionales, para ello Affleck es el tipo capital, una buena elección de pies a cabeza, si bien tiene buena presencia física, y es un hombre con dinero). Poco que decir a continuación para no malograr el filme (todo está sugerido/oculto en la crítica, solamente), pero a fin de cuentas lo que queda no perdona del todo que estemos ante una trama que pierde el sentido del misterio, de repente por estar agotado, y se transforma en otra aventura que es como un resbalón (habrán seguro quienes hasta lo disfruten, no está tampoco mal expuesto), pero es ciertamente a partir de entonces en parte sosa, desmejorada, aunque vista la estrategia es asumir lo extraordinario, ante lo pedestre: el desencanto, y al final toma vuelo. Su base formal, que como relato no imprime tanto entusiasmo, aunque queda un sustancioso discurso.